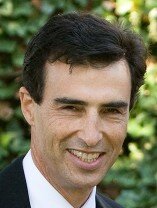 Author  of the Worldwide Bestseller THE GENESIS ONE CODE
Born in Chile and raised in Canada, he is currently CEO of Canada's leading aerospace company which built the Canadarms, and is involved in space exploration and the Hubble telescope. He is a professional engineer and holds a master's degree in engineering physics. He has 30 years' experience in the space industry, having worked on projects in fifteen countries while throughout the decades conducting extensive scientific research. He has published more than 20 peer-reviewed scientific papers on space industry topics and cosmology. He is also a longtime student of religion and for the past 14 years has attended the Vancouver Kollel center for learning.His work on reconciling the biblical account with scientific observation utilizing his biblical clock formula has been reported in various newspapers, magazines and radio talk shows. He is passionate about helping young adults put science and the Bible in correct context.
Daniel pedals to work, 45 minutes each way while listening to bible study lectures on an mp3 player. In summer months, the spry 56-year-old sea kayaks, hikes and rock climbs. From October to June, he loves skiing, especially in the backcountry.